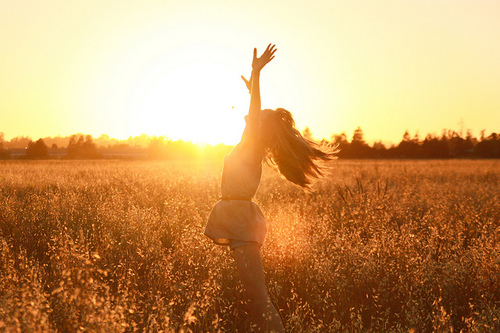 •
Mixing lipstick colors to create custom shades to coordinate with outfits. A couple have been Revlon Super Lustrous Gentlemen Prefer Pink with Maybelline Color Sensational Pink Peony, and Clinique High Impact Lip Colour SPF 15 in Extreme Pink with the same Maybelline Pink Peony.
•
Using really pale pink and summery coral nail polishes, such as Avon Speed Dry Nail Enamels in Delicata and Creamy Coral. These are polishes I've had for years.
•
Eating on a bench outside the library during lunch breaks. The library's right across from my workplace.
•
Exercising outdoors. I love going on walk/runs, in which I alternate between the two.
•
Hula hooping to girly movies. This is my favorite indoor workout, which I follow up with simple strength moves.
•
Hot weather. My college friends can probably attest better than anyone to the fact that I abhor cold weather. I'm a huge complainer in that arena.
•
High waisted skirts and dresses. I recently got some for work, and I've been loving putting together simple outfits with them. The silhouette is really flattering on me.
•
The current state of my skin. It's been really clear lately. I still have redness and undereye circles, as well as acne marks on my chin, but spots are down to a bare minimum, pretty much gone, really.
•
My long hair. It's more weighed down since it's long, so my curls are turning into looser, beachier, curls and waves. I'm loving letting it go as natural as possible with just leave in conditioner spray and smoothing serum.
So there you have it. I don't mean to copy any other bloggers, as I know a multitude have features like this, but I feel it will help keep me positive just to record the highs of life. [Not those kinds of highs, naughty!]
Image from http://favim.com/image/42311/