Hello dear readers!
Anyone who knows me really well will be aware that the Oscars is probably my favorite event to watch on TV. It's such a glamorous awards show, and not only does it award me the opportunity to root for the films I've actually seen or know deserve the honors, but, of course, I get to examine everyone's dress in the pre-show and the Awards show. This year's Oscar wardrobe was more elegant and classic than in the past. As such, I'm choosing to post only my favorites, because there were very few I outright disliked, and the rest I am on the fence about. If you'd like me to post my least favorites, let me know. Otherwise, here are some of my absolute favorites, in no particular order whatsoever: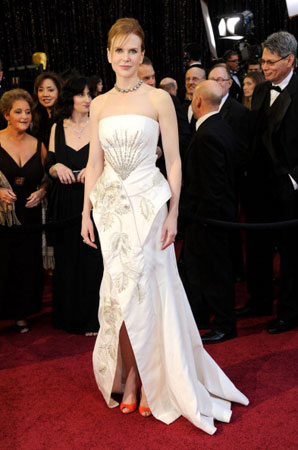 Image from http://www.slate.com/id/2286558/pagenum/3
I thought Nicole Kidman's Dior dress was beautiful. The cut was interesting but not too weird, and the details were lovely. I'm not so sure about those shoes, but besides that she looked stunning. I'm glad she chose to wear white and not champagne because white tends to look better on really pale girls.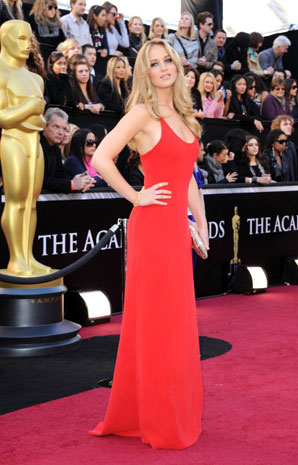 Image from http://www.slate.com/id/2286558/pagenum/2
Though this look was a bit more simple than expected at the Oscars, Jennifer Lawrence looked great in Calvin Klein.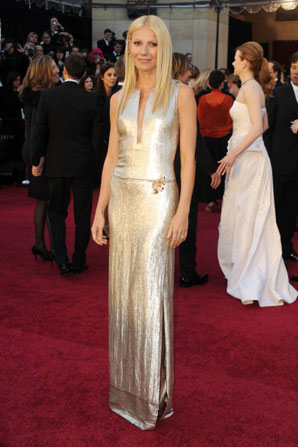 Image from http://www.slate.com/id/2286

558
I normally don't like such plunging necklines, but Gwyneth Paltrow looked very elegant and slim in Calvin Klein without being revealing.
Image from http://www.twirlit.com/2011/02/27/oscars-2011-best-dressed-fashion-winners-on-the-red-carpet-photos/oscars-best-dressed-sandra-bullock/
As usual, Sandra Bullock was absolutely stunning on the red carpet in Vera Wang.
Image from http://www.shinystyle.tv/2011/02/oscars-2011-red-carpet-fashion-natalie-portman-gwyneth-paltrow-and-reese-witherspoon.html?pid=4881
Reese Witherspoon is getting mixed reviews for her choice to keep it simple in this Giorgio Armani Privé, but if you are an Oscar fashion follower and can recall Angelina Jolie's black dress and minimal jewelry for the 2009 Oscars, you'll remember that everyone loved it! It seems unfair that Witherspoon should be put down for wearing the same basic, classic, style that everyone lauded Jolie for only a couple of years ago. Personally, I think this look is simply charming.
And then there were the many dresses of Anne Hathaway. Here are the hits:
This Givenchy Haute Couture by Riccardo Tisci [whew what a name!] was breathtaking. The color isn't too close to her skin tone, so it doesn't was her out, and the jewel embellishments are gorgeous. I think it's fitting considering her history of portraying princesses in films. I think it's my favorite of her dresses.
Normally I don't think I'd like a dress in a material so shiny it reminded me of rain boots, but the beautiful color and the way Anne Hathaway carried off this Armani Prive dress made me change my mind. I actually quite like the look.
Image from http://www.hollywoodlife.com/2011/02/28/anne-hathaway-oscars-dresses-2011/#314320-5-63720819
Despite the strange ruffles on the skirt, I think the color was gorgeous and she pulled off this Valentino couture gown beautifully. If not for the ruffles, this would have been a competitor for my favorite of her looks.
Those were my favorite dresses of the night. I really enjoy reading all the reviews of the fashion in the papers the next day, and I loved the Oscars tonight. Congratulations to the majority of the actresses for wearing elegant, chic dresses instead of some of the strange concoctions seen in the past.
Love and gorgeous gowns.
xEsther
P.S. Please excuse the odd difference in font sizes and spacing. It didn't show up while I was creating the post, and I am not sure how to fix it!