Hello, dear readers,
As many of you may know, the Cannes Film Festival is one of the largest and most important film festivals worldwide. It allows all of our favorite stars to come under the same piece of sky and shine as they promote their new films. It's also a time to wear pretty dresses, and let's not forget that. In fact, I'm here to remind you of the gorgeous gowns that are donned at this festival. I'd like to share my favorite dresses from the first few days. I believe the festival lasts from May 11 until May 22, 2011. Bear in mind, also, that I don't necessarily know who all these actresses/models/stars are, but I simply love their style [or their stylists!].
Image from http://www.harpersbazaar.com/fashion/party-snaps/cannes-fashion-2011
Salma Hayek
wore a gorgeous Gucci Premi
è
re gown that showed off her wonderful figure and complemented her lovely tanned skin. I also love the way she swept movie star waves to the side and focused her makeup on her berry red lips. Beautiful! [By the way, there's nothing I can do about the extra space. It's the picture's fault].
Image from http://www.catwalkqueen.tv/2011/05/cannes_film_fes_16.html
Diane Kruger wore a sleek, backless gold Calvin Klein gown that she offset with a glamorous red lip. She reminds me of an Oscar in this number.
Image from http://theprofashional.blogspot.com/2011/05/red-carpets-cannes-film-festival-2011.html
I honestly have no idea who Bianca Balti is, but I can say she wore an absolutely stunning Alberta Ferretti dress to the festival. I like the girliness of the ruffles and the way they're draped in such a flattering way rather than sticking out like many ruffled dresses do. It's almost like a well-fitting cloud, and I love the way she wears such statement jewelry with it.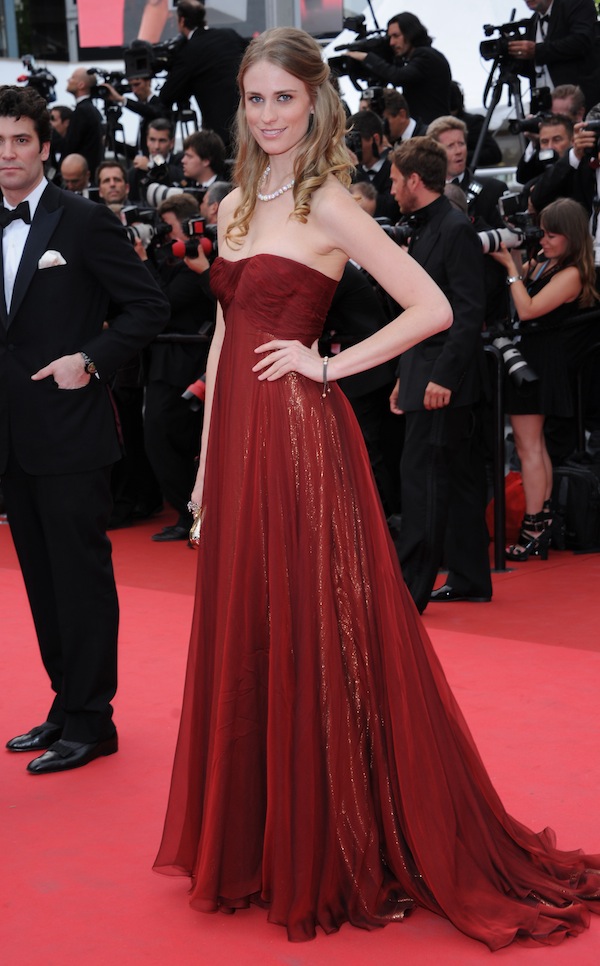 Image from http://www.robertocavalliblog.com/cannes-film-festival-2011-celebrities-in-roberto-cavalli-opening-ceremony/
I can't for the life of me remember who Julie Henderson is, but she did wear a beautiful red Roberto Cavalli gown at Cannes. I like that she kept the jewelry simple but very pretty in order to let the color and the shimmer in the dress stand out. Of course, I should probably be crediting the stylists, but I'm sure you'll wager that's who's dressing the stars anyway.
Image from http://www.ajewelrystyle.com/the-64th-cannes-film-festival-2011-day-1-best-looks/the-64th-cannes-film-festival-in-cannes-may-11-2011/
I am most iffy about Karolina Kurkova's Armani Prive Fall 2009 Haute Couture Collection dress. I think it's a great color on her and it fits well, but I'm not sure what I think about the weirdly draped single shoulder. I'm all for one-shoulder dresses, but this one just strikes me as odd. However, I like the way it sparkles and she pulled it off well with gorgeous movie star curls to match.
I hope you enjoyed indulging in another fashion and celebrity-related post. I've written one about the 2011 Oscars
here
.
Sparkly dresses and movie star glam.
xEsther