A tag has been going around YouTube for quite a while now in which beauty gurus list their five "naughty" and five "nice" products of 2010. Since this is self-explanatory, I feel the need to continue with explanatory mumblings. "Naughty" products are those we've discovered in 2010 that are either horrible products all together or just don't work for us. "Nice" products, as the name would suggest, work well for us and our just all-around great products. I'm limiting myself and sticking strictly to items I've tried first in 2010.
I'll start with the naughty list, which is considerably shorter:
Naughty!
The first product on this list is NYX Round Lipstick in Indian Pink.
This lipstick is an absolutely gorgeous color, just not for me. I was on the search for a natural, not nude, pinky/coral color and I thought this would do the trick. In the lighting at the Ulta I was at, I couldn't tell how orange and warm-toned it really is. This would be a beautiful color on warm or neutral skin tones, but with my extremely fair, cool-toned skin and pinky red natural lip color, it just didn't work out at all.
The next product that didn't work for me was Avon Beyond Color Radiant Lifting Concealer in Fair.
I learned my lesson with this concealer: unless you're actually sure what concealer shades work for you, never buy from a catalogue or online. Avon notoriously has wonderful products but really untrue pictures of the colors of their products. The shade "Fair" for this concealer was nowhere near white enough for my super-pale skin. When applied over my dark circles, it just looked like I had applied beige concealer over purplish circles. Yeah. Exactly what we women want: concealer that makes it look like we're wearing makeup. Not only was the shade wrong, but the coverage wasn't opaque enough. It just didn't hit the mark for me. I had actually never worn undereye concealer, or any concealer for that matter, until 2010. So this was my first concealer "miss." I'm still on the lookout for the perfect one for porcelain skin.




The next is also a concealer. It is Almay Smart Shade Concealer in Light 010.


Because the link is choosing not to work for the picture, you can check out this product here. First of all, the fact that it claims to match your exact skin tone is a bit ridiculous, but my friend did recommend this product to me so I thought I'd give it a go as an undereye concealer. The problem with this, besides its ridiculous claim, is that it's so sheer that it never fully conceals the circles. It works nicely to brighten up inner corners and it lightens dark circles a bit, but it just doesn't live up to its claims. The color is by far a better match than the Avon one, but I'm afraid that if it was actually opaque enough, it would prove to be too beige/peachy for my skin tone. The search continues for a perfect undereye match.


This next product is a hair product that has been raved about in the beauty community. It is It's A 10 Miracle Leave-In Product.





This product claims to do ten things, including smoothing hair and getting rid of frizz, fixing damage and working as a heat protectant. It also claims to protect color and detangle. The hairstylist I used to go to recommended this product to me and gave me a small bottle to try out for free. Honestly, I think it's just a glorified detangler/leave-in conditioner/ heat protectant. There isn't anything special as far as ingredients in this product, and after a month or so of near-nightly application to damp hair, I saw no difference at all in my hair. There are definitely cheaper heat protectants, and if that's all this product is good for then I am not going to repurchase. It's really an overpriced detangler in my opinion.
The fifth and last item on my naughty list is actually a general and not a specific beauty item and that is: fragranced body lotion. It pains me to say that I can no longer wear my favorite Bath and Body Works scented lotions. Over the past couple of years, my skin has become ridiculously sensitive. Any type of fragrance makes my skin sting, so I can only use hypoallergenic, fragrance free lotion. This means that all of the wonderful lotions I've been given as gifts have to be given away, and the only people I know who'd want half-used lotions are probably my mom and sister, and my sister doesn't live in the state. That's a lot of lotion that I sadly can no longer use.
Nice!
Over the past year I discovered several new lipsticks, so I'll try to limit myself to my absolute favorites. The first is L'Oreal Colour Riche Lipstick in Tropical Coral.
Unlike Indian Pink, this lipstick is a reddish coral, and it's cool-toned. It picks up the red in my lips, and, although it's pigmented it somehow manages to be completely wearable and almost natural on my lips. I first discovered this shade in New York City this summer, but I didn't actually purchase it until I got home from vacation. It was one of the first success stories in lipstick shades of 2010, and it quickly became a staple. When I first started college, I wore this lipstick every single day for at least a month and have recently been picking it up again. The formula is fairly long lasting and not drying, though I wouldn't apply it without a balm underneath.
The next lipstick is one I've been reaching for quite a lot over the past couple of months, and that is Rimmel Moisture Renew Lipstick in Latino.
At first I was a bit disappointed in this lipstick because it's got quite a noticeable shimmer when first applied. However, I've discovered that I was the only one to actually notice the shimmer, and it gives the illusion of a fuller lip rather than a frosty one when the shimmer dies down. I've found myself reaching for this every day, and it's half gone by now. This is a super moisturizing formula. Again, I always use balm before lipstick, but this one is moisturizing on its own. It also has SPF 18, which is a nice touch. It's the perfect soft, wearable everyday pink color. I kept going to different drugstores and Ultas and opening this one up and gazing at it before my mom got sick of me staring at it and bought it for me. Now she loves it, too, and keeps reminding me that I'll need to get a new one soon.
The next item is a hair product. The reason I started using it is actually because I discovered this product in the Beauty section of Seventeen magazine. It was an article for girls with thick waves, messy curls, and/or frizziness, or something along those lines. I don't know if I've got the exact wording correct, but basically my hair fits all of those descriptions. This product is Suave Professionals Weather Protection 365 Anti-Frizz and Flyaway Cream Gel.
My hair has gone through many transitions throughout my life. I had huge barrel curls when I was little, then I got it cut extremely close-cropped (I HATED that) and it grew back stick straight. Then it got sort of lank and wavy. Eventually it got really curly, went back to wavy, and now it's back to curly. My type of curl is the kind where it's flat on top and curly on the bottom. Because it's so thick, it tends to fall into waves. I wanted a product to get rid of frizz and define curls without giving the wet look of strong-hold gels. This product does the trick. I like to towel-dry my hair for twenty minutes and then comb and scrunch this into damp hair. It helps to define the curls and keep them defined. It eliminates a lot of the frizz within the curls and gives a nice shape to my hair. I still need to use a serum to get rid of the frizz and flyaways that remain, but this product is amazing. The only downside is that I go through it so quickly. I currently have four tubes at home, and one back in my dorm room. It's kind of a miracle-worker.
The next product is Physician's Formula Concealer 101 Perfecting Concealer Duo in Green/Light.
This product came to my attention in a rather unconventional way. I had been going to a dermatologist for years, and my skin had suddenly started breaking out on my chin and forehead, and nothing was curing it. I've only just discovered the cause of this, but at the time my dermatologist gave me an antibiotic to take and then, curiously, asked if I ever wore concealer. The answer at the time was that no, I never used concealer. Because the antibiotic was going to take a month or so to take effect, he suggested a Physician's Formula green-toned concealer to cover blemishes. This was the second type I tried, and, even though it gets a lot of hate on MakeUp Alley, it works wonders for me. The brush isn't great and the packaging is terrible, but I find that applying the green to blemishes and covering the green with the skin color works wonderfully to cover up blemishes and redness. The only way it can get cake-y is by applying too much, as it is a cream to powder formula. The skin color really is nowhere near my actual skin tone, but for some reason when applied over the green it blends right in. Unless I find a better concealer, I'm sticking to this until my skin clears up. Another bonus is it doesn't aggravate my breakouts.
The last of my five Nice products is Avon Moisture Therapy Intensive Extra Strength Cream for Extremely Dry Skin.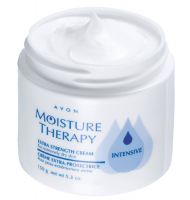 As I've mentioned, my skin reacts to even the slightest hint of fragrance. My hands also get ridiculously dry and visibly flaky in the winter, so I need something extremely strong and non-irritating to calm them down. This cream does the trick. I use it on my hands and elbows at night, though I'm not very diligent at applying lotion regularly. When I do apply this nightly, it softens my hands and visibly reduces flakes and redness caused by cold, dry winter weather. It also comes in the tube form in two different sizes. I have all three varieties, and they really are life-savers, but my favorite is definitely the kind that comes in a jar. Its consistency is just thicker and creamier and easier to blend into the skin.
That concludes my Naughty and Nice list for 2010 beauty items. I hope 2011 brings another slew of wonderful products for us all to indulge in!
Happy hunting!
xEsther