Hello, dear readers,
I know I don't usually blog about beauty or fashion news on here, but my photos for my foundation routine came out horribly, and I wanted to give you a post! This is for all you Betsey Johnson fans out there.
Allow me to explain. My cousin brought back earrings from Ireland because she thought that either my sister or I had my ears pierced. Neither of us do. My mom plans to make the earrings into pendants, so she got a couple of Betsey Johnson necklaces from a friend who sells them on eBay, thinking I could use one of the chains. I happened to really like the necklace, so I decided to keep it intact and find another chain.
Really exciting story.
Here it is, just the right balance of girly and tacky: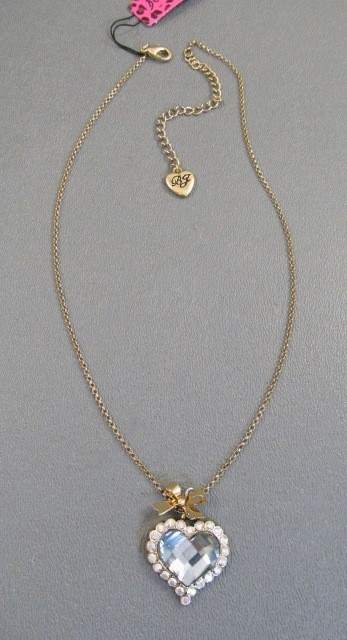 Source
The blue is more vibrant in real life.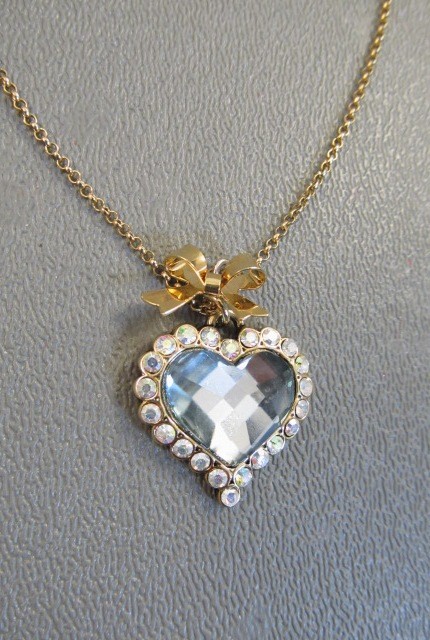 Same source
On to the irony: The very same night in which I received the pendant necklace, I happened upon an article online announcing Betsey Johnson's bankruptcy! I was so upset, because I loved visiting her stores in New York City and downtown Chicago. They're so over-the-top, a little too pink, and incredibly fun, that it's impossible not to like them. I would never actually wear 99 percent of what she sells, but I can't walk into one of her stores without a smile on my face.
Unfortunately, she's closing almost all of her shops. The good news is that she still has her accessories line at Macy's, as well as her activewear collection in department stores. Apparently she still plans a runway show for September, and there's a rumor that she may have a reality show in the works. I guess everyone needs to expose their lives on TV these days. Ok, ok; the title of this blog is a little overdramatic.
I just find it funny [in a non-"ha ha" sort of way] that she filed bankruptcy the same day I received my first Betsey Johnson item.
For your entertainment, here are a couple of my photos of her design for the 2010 recycled fashion project in NYC. A number of designers were each asked to come up with one sustainable clothing item that could withstand the elements. The results were put on display in Times Square, turning the iconic location into a veritable runway. Her design completely represents her and her brand: wacky [and a bit tacky!], girly, and very, very pink! These were taken on my trip to NYC in 2010.